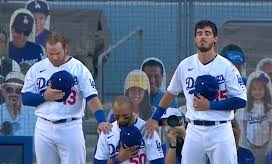 There is probably no greater visceral divide I have witnessed than the act of kneeling in protest during the National Anthem.
To be honest, when I saw Colin Kaepernick take a knee during the National Anthem, I was dumbfounded. My gut response was, "how could he disrespect the flag and our nation like that?" And that emotional response did not subside. I remained dismayed every time I saw another athlete do it. I just could not get past the visual representation of anyone kneeling during the National Anthem. It went against everything I believe in.
Quite frankly, as someone who prides themselves on being open to diverse ideals and perspectives, I was stuck in a place I didn't want to be and I needed to get right with myself.
So, I referred to the five leadership principles of the Leadership Boomerang™, which is not only the name of this blog but also the leadership philosophy I have preached for 20 years as essential elements in building a strong corporate culture – Trust, Respect, Honesty, Empathy, and Shared Accountability.
Empathy resonated loudly with me because I wanted to better understand what was behind Kaepernick's actions.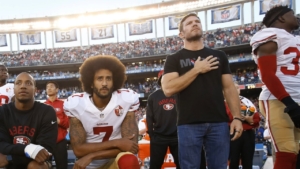 In my search to understand, I learned that Kaepernick's decision to kneel was not his alone but rather based upon guidance from Nate Boyer, an ex-Navy Seal, who instructed Kaepernick that kneeling was more respectful than sitting. I found it profound that this ex-Seal was present at the first game of Kaepernick's protest, standing beside him with his hand on his heart.
In addition, my search to understand yielded an interview with Colin from the early days of his protest (https://ftw.usatoday.com/2020/06/colin-kaepernick-anthem-protest-timeline-message). When asked if he would continue to kneel, his response was,
"To me this is something that has to change (oppression, police brutality). When there is significant change and I feel like that flag represents what it is supposed to represent, and this country is representing people the way it is supposed to, I will stand."
So, his protest wasn't about the flag. It wasn't about the National Anthem. It was about something Kaepernick, and many others in our country, felt needed attention. And he took the advice of a Navy Seal as to how best to inact his protest.
And I better understood.
But I also understand how this protest strikes deep at the hearts of others. Many in our country do see this protest as one against the flag and our nation, and a statement of disrespect for the men and women who are serving, and who have died, for the incredible rights we enjoy in this country, including the right to protest.
I know this because it is how I first felt when I saw it and in fact, this act of protest still strikes an emotional chord within me because of my beliefs.
So, what now?
In my opinion, the essence of leadership, whether leading a team, a company, a family, or a community is not so much about making a stand as it is about understanding, i.e., using the full power of empathy, and respecting the differences of our diverse society.
I am not saying leaders should never make a stand; however, many in our society tend to take a stand on just about everything with very little tolerance for anything that is not in line with their beliefs or how they see it.
In my humble opinion, our country has way too much of a "I'm Right – You're Wrong – You're Dead to Me" mentality and it will continue to divide our families, our communities, and our nation.
And this brings me to the featured photo of this post, which I believe not only strongly defines what Empathy really means but also serves as a great example of how we as leaders and individuals should respect each other's beliefs, as contrarian as they may be.
In the center of the photo is the LA Dodgers' Mookie Betts kneeling in protest for what he believes. By his side are two teammates, both standing with one hand on their heart demonstrating their beliefs and one hand on Betts' shoulder showing support for him and his beliefs. And Betts is showing his support for his teammates' beliefs as well by accepting, indeed embracing, their desire to stand.
Two differing stances. Not in agreement but certainly an effort towards understanding, and better yet, respecting the beliefs of another.
And that my friends, at least in my mind, is the true definition of empathy. To be empathetic, one does not need to agree but one does need to try to understand.
As leaders, we MUST embrace empathy and truly seek, listen, and learn in our search for understanding of both sides of an issue if we are to move our teams, our companies, our communities, and indeed our great country forward.
And one more thing.
That seeking, listening, understanding, and respect…
It starts with each and every one of us doing just that and leading our teams, our communties, and our families, from the front.
Stay well everyone, be safe, and best wishes as you seek, learn and lead,